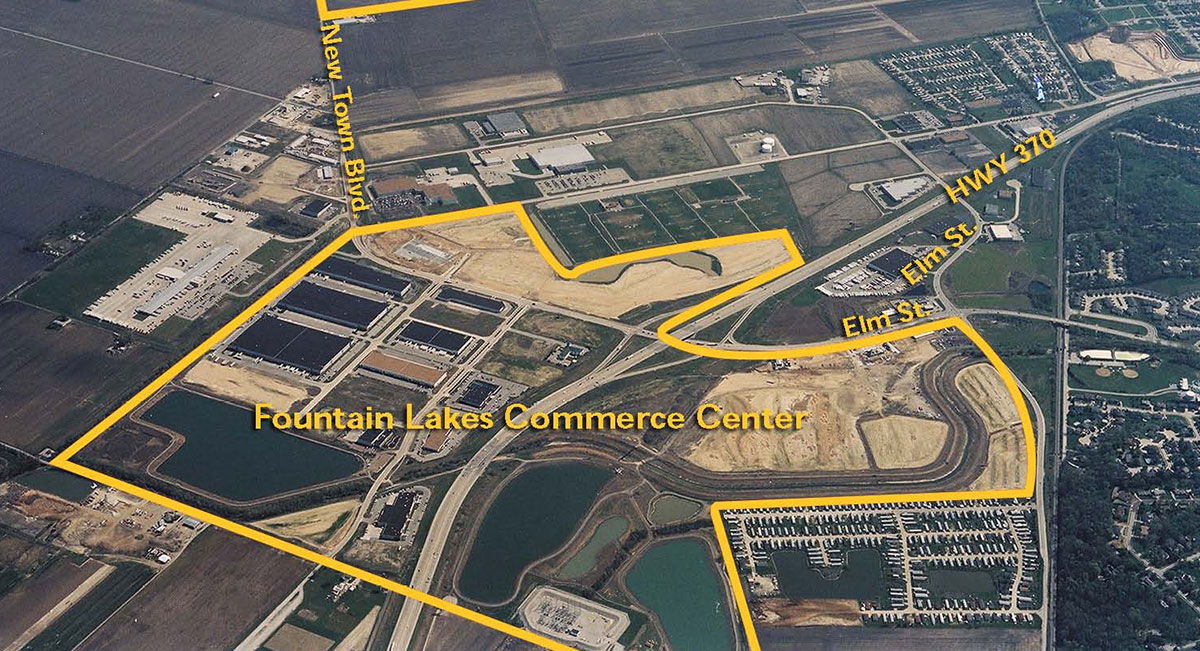 Fountain Lakes Commerce Center consists of 500 acres of mixed-use development integrated with amenities designed to enrich the lives of those who reside and work in the surrounding community. Amenities include approximately 150 acres of adjacent land donated to the City of St. Charles for public recreational purposes. As the second largest park in the county, it includes 80 acres of stocked lakes, a wetland observation area and a seven-mile running trail that will connect the recreation area, business park and Mueller soccer fields.
Fountain Lakes is located along Highway 370, five miles from Interstate 70, and seven miles from Interstate 270. Fountain Lakes is a 15-minute drive from St. Louis Lambert International Airport and just minutes away from the center of the City of St. Charles. Approximately 52,000 vehicles travel Highway 370 each day as a less-congested alternative to Interstate 70 through St. Charles and St. Peters. Fountain Lakes is the center of industrial growth in the City of St. Charles.
Fountain Lakes is a great home for a variety of industries, ranging from manufacturing facilities and warehousing centers to retail destinations, restaurants, hotels and more. With a 150-acre recreational park, Fountain Lakes has become an important addition to the St. Charles community. Advanced technology is critical to the success of business in the 21st century. The properties at Fountain Lakes provide ready access to a quality workforce featuring built-in fiber optics ready for use, earning the development the title of Fiber Park by the former Southwestern Bell.
Fountain Lakes – Land Brochure
Site
Fountain Lakes Commerce Center
Zoning
Commercial/Industiral
Available Buildings
Office, Warehouse, Retail
Available Area Site (Acres)
30.37 AC; 25,000 - 290,000 SF
Address
Fountain Lakes Commerce Center
St. Charles, MO 63301
City/County
St. Charles/St. Charles Co.
Asking Price PSF
$4 - $5.95/SF
Incentives & Benefits
Chapter 100 tax abatement
Onsite Utilities
Electric, Natural gas, Water, Sewer, Telecom
Highway Access
Hwy 370, I-70 & I-270
Rail Access
No
Barge Access
No
Broker Name
Ben Has
Broker Company
EQT Exeter
Phone
314-448-0768
Email
ben.haas@

null

eqtexeter.com
Broker Name
David Zeigler, SIOR
Broker Company
Lee & Associates
Phone
314-400-4001
Email
dzeigler@

null

lee-associates.com
Major Tenants (Move-In Date)
- Almo Distributing (2013)
- Centric Group (2013)
- Friend Tire Company (2017)
- Keefe Group, Inc. (2019)
- LMI Aerospace
- MiTek Industries (2008)
- Newco Enterprises
- Southern Glazer's Wine Spirits (2007/2019)
- Victory Packaging (2000)
- Vi-Jon (2002)