One of the strengths of the St. Louis region is its ability to do both complex and simple things at the same time. Its industrial heritage, access to talent at local and regional universities and technical schools, and status as a major metropolitan area with many corporate headquarters and regional offices of major companies, allow it to deliver top quality, loyal and diverse talent and workforce functionality in all aspects of the supply chain, from C-Suite to the shop floor, and the R&D Center to the warehouse dock.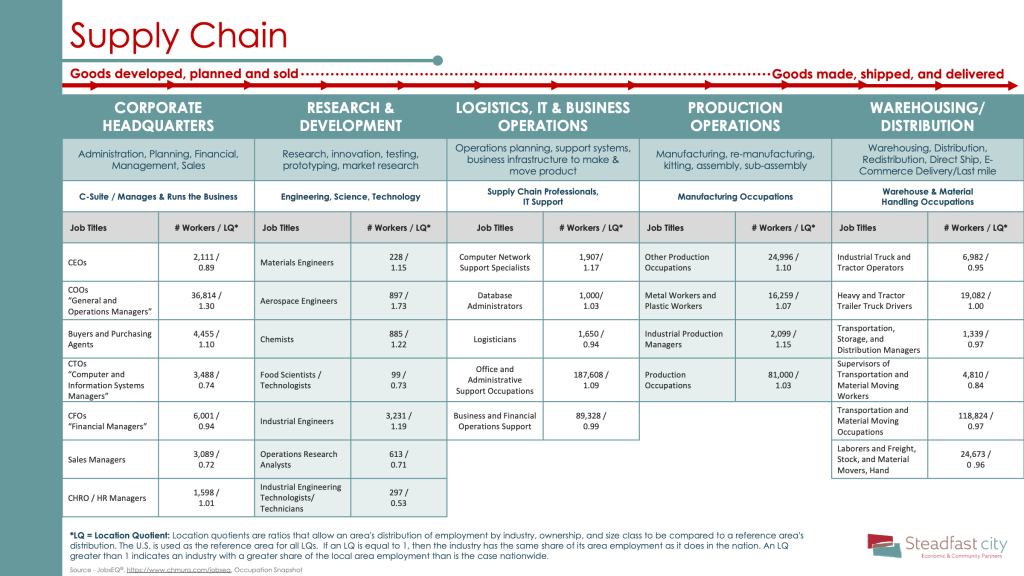 Supply Chain Table showing how goods move from being developed/planned/sold to being made/shipped/delivered. This table moves column to column from Corporate Headquarters, to Research & Development, to Logistics & IT, to Production Operations and ends at Warehousing/Distribution and each section includes related job titles and local employees/location quotients for each sector.
Additionally, the region pulls many recent college graduates from a larger sub-region of 250 miles, as depicted by the map below.  Companies in the St. Louis region often recruit and hire top quality talent from regional universities in Missouri, Illinois, Iowa, Indiana, Tennessee, Kentucky, Arkansas, and other nearby states whose graduates come to the region to begin their careers, take advantages of the affordable cost of living, and enjoy the region's various attractions and night life.
In addition to having more than 55 universities and colleges within a 250-mile radius, the St. Louis region is located within 50 miles of 18 trade schools and seven universities offering certificates and degrees in supply chain management, manufacturing, transportation and logistics fields.