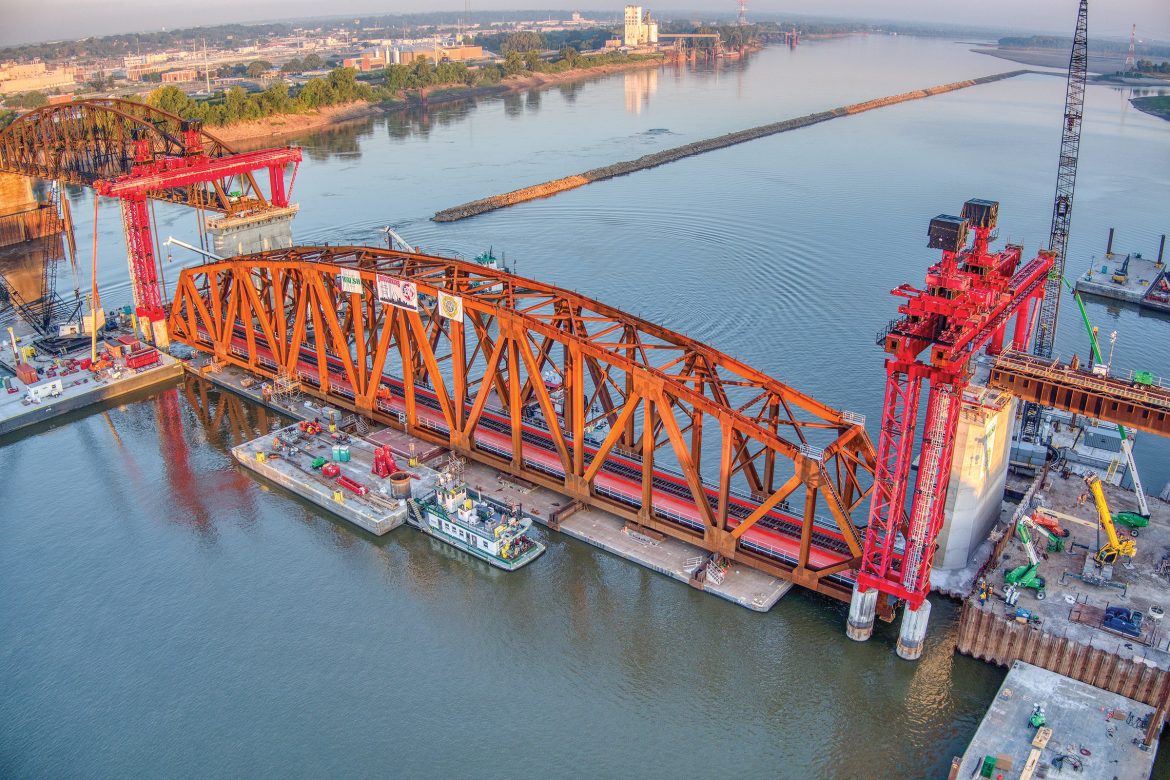 Photo courtesy of Walsh Construction and Trey Cambern Photography
Friday, August 26
Board: 11:30 a.m. | Depart: 12 p.m. | Return: 1:30 p.m.
Cost
Adults $24
Kids $14
Seniors $22
50 S Leonor K Sullivan Blvd, St. Louis, MO 63102
Base of the Gateway Arch Steps
Join us to see history in the making as our cruise takes us to a special viewing area on the Mississippi River to witness part of the installation of the last truss section being replaced on the Merchants Bridge linking Missouri and Illinois at Downtown St. Louis.
This step marks one of the last significant milestones in the $222 million project to replace this vital rail artery across the Mississippi River, which is one of the nation's primary east-west rail corridors serving one of the nation's largest rail hubs. The Merchants Bridge is one of two freight rail bridges spanning the Mississippi River in the St. Louis area and this project will double the capacity on the bridge, enabling users to move their freight faster, more cost-effectively and more reliably.
Representatives from Terminal Railroad Association of St. Louis and general contractor Walsh Construction will be on board to provide an overview of the project, its significance to the nation's freight network and the steps involved in placing the final truss.
Lunch concessions ranging from hot dogs, nachos and popcorn to a variety of box lunches and drinks will be available for purchase during the cruise.
Note: It is possible the construction schedule may change in the days leading up to the truss installation, which might impact what phase of the work is actually occurring the day of the cruise. In the event of inclement weather, the Riverboat Cruise will be canceled and refunds will be provided.