We Are St. Louis Regional Freightway
Latest Updates: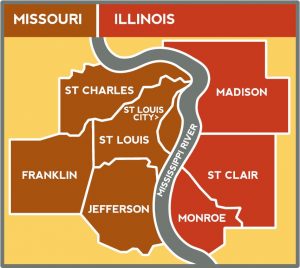 Established as the St. Louis region's go-to source for coordinating freight activity, the St. Louis Regional Freightway provides site selection and other assistance to manufacturing, logistics, and multimodal transportation companies and their service providers. As a business enterprise of Bi-State Development, the Freightway plays a critical role in the growth of our region's manufacturing and distribution sector within the City of St. Louis and seven adjacent counties in Missouri and Illinois. The St. Louis Regional Freightway offers a unique combination of competitive advantages unavailable anywhere else in the country.
For more information regarding freight-based industries and opportunities, please contact Bi-State Development Executive Vice President of Multi Modal Enterprises Mary C. Lamie, P.E.
"The amount of river business in the St. Louis region has disproportionately increased over the past three decades. This region is a rail and interstate highway gateway. It is more cost-effective to move commodities into, out of and through St. Louis by combinations of truck, rail and barge than points upstream on the Mississippi and Illinois Rivers. Barge loading and unloading capacity has expanded in the St. Louis area to take advantage of these train rates and barge freight rate adjustments."

David Jump

President, American Milling

"With a wealth of multimodal transportation options, plenty of available real estate, and a position within one day's drive of 30 percent of the U.S. population, the bi-state area has drawn interest from manufacturers, distributors, and retailers who need efficient access to domestic and international markets."

Inbound Logistics

May 2017

"Our facility at MidAmerica Airport is a huge piece of our operation. Prior to building it, all our fruit coming out of Mexico was coming up to the U.S. and down to our facility in Miami, then shipped back up to the rest of the U.S. by truck. By building this facility, it knocked days off the transportation time, and more importantly, is providing more shelf life for the grocers."

Jon Wall

Manager Facilities & Compliance, North Bay Produce

"The St. Louis region is able to supply all of that labor, and I don't think every metro in the U.S. could make that claim. That's a critical part of why World Wide Technology is here and remains here, I believe. It's estimated there are 5,000 employees at Amazon facilities in the St. Louis region, and you have to have a deep labor pool to support that. We have that in St. Louis."

David Branding

Managing Director, JLL

"I had a sense the individual parts were really strong in the agritech ecosystem here. I think what's come across since we got here is the connectivity between them. It's really impressive that there's been a unified approach with a master plan to make agritech a viable thing in the St. Louis region."

Dr. Belinda Clarke

Director for Agri-TechE in the United Kingdom

"The St. Louis region remains primed to take its place as a global hub for logistics and the movement of goods throughout the United States and internationally. This list of [priority] projects goes a long way toward achievement of that goal."

Chester Jones

Supply Chain Operations, True Manufacturing Co.