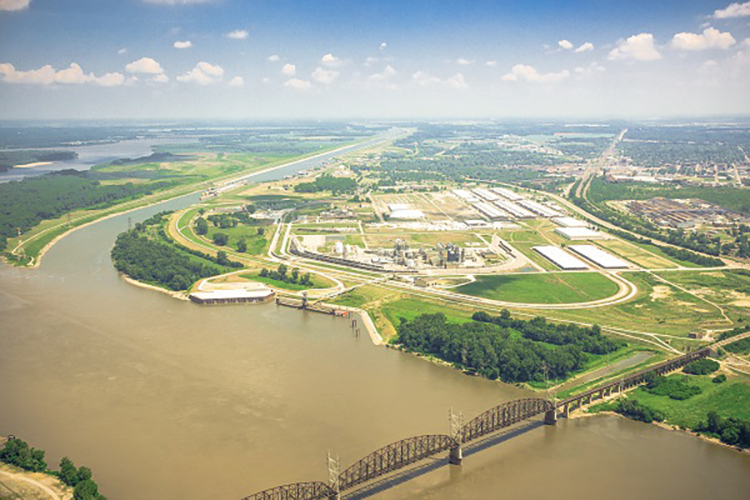 America's Central Port is located on the Mississippi River, three miles north of downtown St. Louis, Missouri in the center of our nation's transportation network. The port is located adjacent to Locks #27 – the last lock on the Mississippi River heading south. Warehouses are located in a secured industrial park setting within Foreign Trade Zone #31.
Illinois Route 3, a four-lane limited access highway, is located immediately east and adjacent to the port and grants easy access to all six of the region's major interstate highways (Interstates 44, 55, 64, 70, 270 and 255) within 15 minutes. 70 percent of the United States' population and 62 percent of businesses can be reached in just a two-day drive from America's Central Port.
The port is also perfectly positioned with respect to rail. The Granite City Harbor is served by Norfolk Southern Corporation. The southern portion of the property is served by Terminal Railroad Association, a Class III carrier that is owned by five Class I rail carriers: Union Pacific Railroad, Burlington Northern & Santa Fe Railway, CSX Transportation, Canadian National Railway and Norfolk Southern Corporation. The short line connection allows direct connection to these carriers. Port Harbor Railroad Corporation also serves ACP's Madison Harbor facilities and offers 24-hour switching services.
Site
AMERICA'S CENTRAL PORT
Zoning
Industrial
Available Buildings
Office, Warehouse/Distribution
Available Area Site (Acres)
2.6 – 24 acres & 5,300 – 260,000 SF
Address
1635 W. 1st Street
City/County
Granite City/Madison County
State
IL
Zip
62040
Asking Price PSF
$3.65 – $4.50 PSF (Modified Gross)
Incentives
FTZ #31, Existing TIF District, Small Business Hub Zone, New Markets Tax Credits, Employer Training Investment Program, Edge Tax Credit Program, Southwest Madison County Enterprise Zone, Southwestern Illinois Development Authority
America's Central Port Site Incentives
Opportunity Zone
Yes
Onsite Utilities
Electric, Natural gas, Water, Sewer, Telecom
Highway Access
IL Route 3 -> All STL Hwys.
Rail Access
Yes
Barge Access
Yes
Broker Name
Alex Burkart
Broker Company
In-House
Phone
618-452-8422
Email
aburkart@

null

americascentralport.com
Major Tenants
- Apex Oil (+20 Years)
- Arizona Building Systems
- Boise Cascade
- Celta Chemical (2016)
- The Delivery Network (2003)
- DNJ Intermodal (2017)
- Ehrhardt Automation Systems (2014)
- Ehrhardt Engineered Solutions (2014)
- Express Chemical (2020)
- Fairfield Processing Corp (2007)
- Grain Densification International GDI (2017)
- Granite City Terminals (+20 Years)
- Green Plains (2016)
- Mattingly Lumber (2005)
- Mid-Coast Terminal
- Phillips 66 (2014)
- Rivers Edge Terminals (2003)
- SCF (+20 Years)
- Sierra Management & Technology (2013)
- Shearwater Systems (2017)
- St. Louis Screw & Bolt (1970)
- Supplied Industrial Solutions (2008)
- Walters Metal (2013)
- Wunderlich Corrugated Packaging (2013)
- WWS (2019)
- XPO Logistics