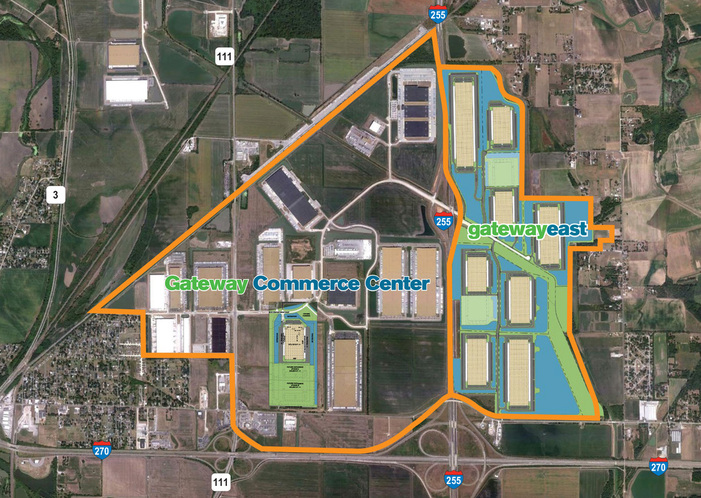 Gateway Commerce Center offers superior size, location, access, infrastructure, labor, amenities, and economic incentives. It is ideally suited for local, regional, and national warehouse and distribution users. At 2,300 acres, there is plenty of room to grow at Gateway, creating cost-efficiencies by accommodating expansion on-site. The property has plans for multiple spec building projects and existing allotments of space ranging from 100,000 to over 700,000 square feet.
In addition, the park already has infrastructure in place to meet needs far into the future. Gateway provides high-capacity service for electric, natural gas, water, sewer, and telecommunications, making the park suitable for many different industrial uses. All roads in the park are designed to interstate standards, with 40-ton vehicle rating.
St. Louis is one of the few regions nationwide that enjoys convenient access to four modes of transportation: road, rail, water, air. The availability of so many options provides the community with some of the lowest shipping costs in the country.
5710 Inner Park Dr – EQT Exeter Listing
Gateway Panattoni Building One – JLL Listing
Gateway Panattoni Building Two – JLL Listing
Land – Gateway Commerce Center, 22 Acres
Land – Gateway Commerce Center, 40 Acres
Gateway 1 Distribution Center – CBRE Brochure
Land – 7 Gateway Commerce Center – CBRE
Land – 2 Gateway Commerce Center – CBRE
Site
Gateway Commerce Center
Zoning
Commercial/Industrial
Available Buildings
Office, Warehouse/Distribution
Available Area Site (Acres)
2 – 95 Acres / 50,000 SF - 911,800 SF
Address
Gateway Commerce Ctr. Dr. E
Madison, IL 62040
City/County
Chouteau Township/Madison Co.
Asking Price PSF
Multiple Listings
Incentives & Benefits
Enterprise Zone, TIF District, FTZ
Onsite Utilities
Electric, Natural gas, Water, Sewer, Telecom
Highway Access
I-270 & I-255
Rail Access
Yes
Barge Access
No
Broker Name
Multiple Brokers; Contact Mary Lamie
Broker Company
St. Louis Regional Freightway
Email
MCLamie@

null

TheFreightway.com
Major Tenants (Move-In Date)
- Amazon (2016)
- Anheuser Busch (2022)
- Customized Distribution Services, Inc. (Dial) (1998)
- D.B. Schenker (2016)
- FedEx (2013)
- GEODIS (2017) (2010)
- OHL (2009) (2001)
- P&G (2011)
- Phillips 66
- Saddle Creek Logistics Service (2015)
- Save-A-Lot (2004)
- The Hershey Company (2009)
- Unilever (2003) (2014)
- UTI Integrated Logistics, Inc. (2011)
- Walgreens (2011)
- World Wide Technology (2019)