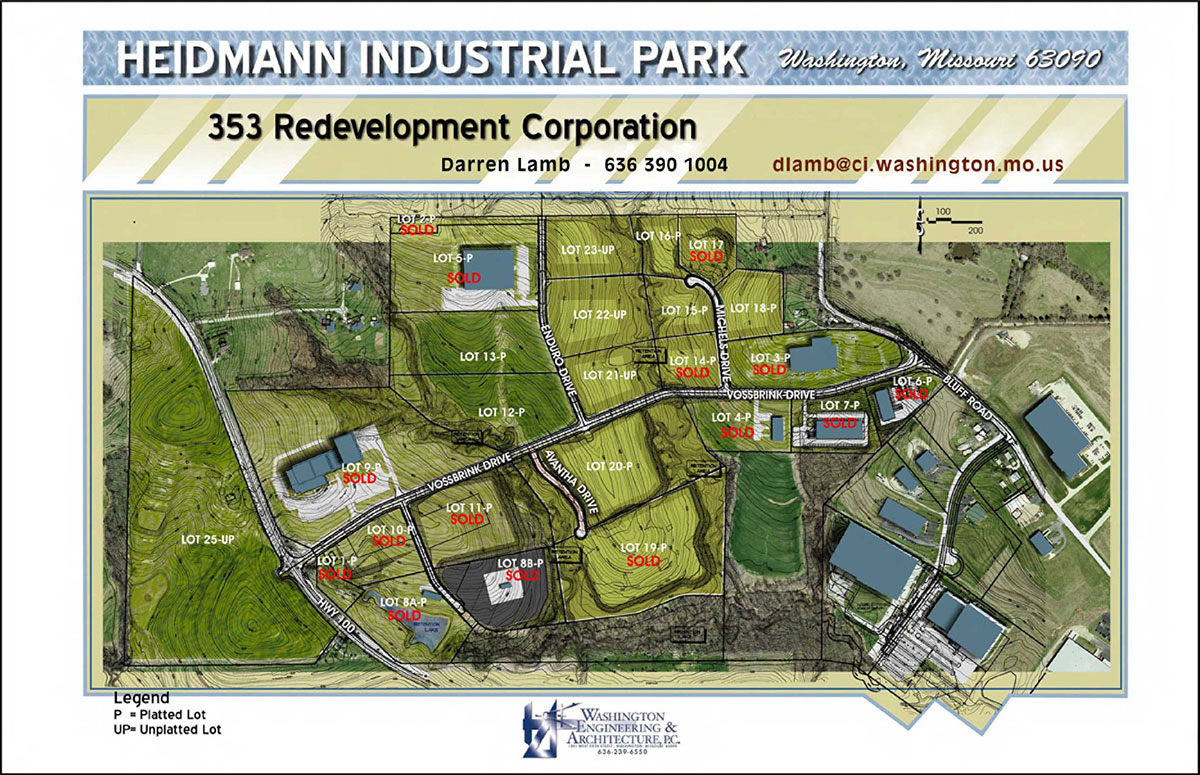 Washington Real Estate Sites is located east of the Highway 100 and Vossbrink Drive intersection and is fully developed and zoned for heavy industrial usage. The site enjoys public road access and utility infrastructure to each site, and proximity to rail service, highways and numerous amenities. The City of Washington has had great success with Washington Real Estate Sites and has attracted users including Melton Machine & Control Company, LMI Aerospace and Sisters of Mercy Health System of St. Louis.
The remaining lots within the site are Certified Sites through the Missouri Department of Economic Development and designated as Elite Sites through Ameren Missouri. There are approximately 30 acres available between 4 sites in Washington Real Estate Sites.
Public utilities for the site are provided by the City of Washington include a one million gallon water tower and 12″ circulating water mains with a PSI of 63, a newly constructed wastewater treatment facility with 8″ lines, and stormwater retention is provided for all lots within the site.
Additional utilities within the park include 12.5 kv and 34.7 kv power supplied by Ameren Missouri, 4″ and 6″ 20 PSI gas lines provided by Missouri Natural Gas and T1 lines and a DS3 fiber optic cable are provided by AT&T. Washington is also served by the Volunteer Washington Fire Department which maintains an ISO rating of 3 for the community.
The 353 Redevelopment Corporation has purchased 115 acres of The Watermann Farm located just south of Heidmann Industrial Park with direct access to Highway 100. The new park, financed by the City of Washington, will allow for flexible lot layouts for large and small projects alike with access to industrially rated utilities and infrastructure.
Site
Washington Real Estate Sites
Zoning
Industrial-Heavy
Available Buildings
Land Available for Office, Warehouse/Distribution
Available Area Site (Acres)
30+ acres
Address
Washington, MO 63090
City/County
Washington/Franklin Co.
Asking Price PSF
Contact broker
Land $60,000/Acre
Incentives & Benefits
Chapter 100 tax abatement, ACT Work Ready Community
Onsite Utilities
Electric, Natural gas, Water, Sewer, Telecom
Highway Access
Hwy 100
Rail Access
No
Barge Access
No
Broker Name
Sal Maniaci
Broker Company
Washington, MO
Phone
636-390-1004
Email
smaniaci@

null

ci.washington.mo.us
Broker Name
Darren Lamb
Broker Company
Washington, MO
Phone
636-390-1004
Email
dlamb@

null

ci.washington.mo.us
Major Tenants (Move-In Date)
- Canam Steel Corp (2017)
- Clemco Industries
- Computech (2013)
- Frick's Quality Meats
- Hodges Badge (2013)
- LMI Aerospace (2010)
- Melton Machine (2018)
M&R Plating
- Rawlings Sporting Goods (2011)
- RTI Advanced Forming
- Shure Manufacturing
- WEG Transformers (2004/2020)
- Texwrap