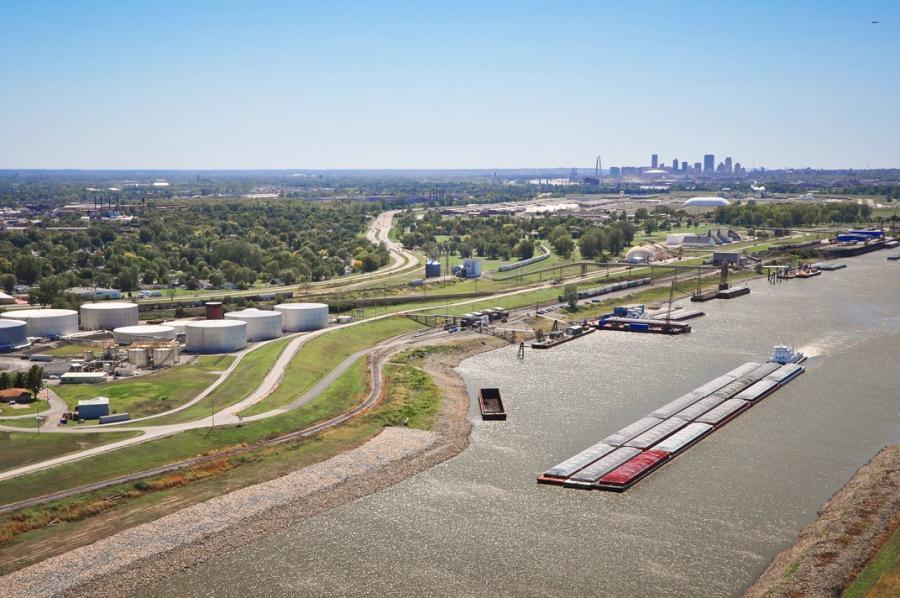 This article was featured in the August 23, 2022 edition of Freight Business Journal of North America
Late last year, devastating floods swept through British Columbia, destroying major highways and railways, and exacerbating the strained supply chain at the Port of Vancouver. With the flow of goods from Asia threatened, carriers diverted cargo 450 miles north to the Port of Prince Rupert. What allowed Prince Rupert to handle the excess cargo was its rail connections to the inland port of Edmonton, Alberta.
The idea of the inland port is nothing new. Growing volumes of international trade and congestion at seaports motivated ports decades ago to plan inland facilities where containers could be relocated from the dockside by rail. Rail connections assume increased importance in this scenario (see sidebars), as do nearby warehousing and distribution facilities.
Supply-chain disruptions – whether brought about by COVID-19, the war in Ukraine, or heavy weather – have underscored the need for inland infrastructure to relieve seaport stress. To mitigate the risks of future supply-chain shocks, many supply chains are being reconfigured to keep more stock on hand. So, even when COVID-era consumer demand for goods abates, the stress on transportation and logistics infrastructures will likely continue-indicating the importance of inland ports as critical components in the effort to ensure supply-chain resiliency in North America.
When imports through Canada's Pacific ports were jeopardized, "Edmonton suddenly stood out as Canada's best-positioned inland port," said Dave Young, managing director in Edmonton at CBRE, a real-estate firm with investments in Edmonton's industrial market. Besides its connections with the Canadian National and Canadian Pacific railways, Edmonton also enjoys a considerable supply of big-box distribution space, according to Young, with over eight-million square feet of available space and over four-million currently under construction.
Expedite Cargo
The Port of Long Beach, seeking ways to expedite deliveries to the intermountain west, last year partnered with the Utah Inland Port Authority to improve cargo flows between Southern California and Utah, Colorado, Nevada and Idaho. Under the agreement, the Port of Long Beach will invest $1 billion in rail improvements over the next 10 years and the Utah Inland Port Authority will strengthen its ability to transfer cargo for further distribution.
The Union Pacific Railroad is playing a part of the initiative, committing to optimize rail deliveries. UP's direct rail service between the Port of Long Beach and Salt Lake City "will allow cargo to be rapidly evacuated from terminals in Long Beach for further distribution throughout the region," said Jack Hedge, executive director of the Utah Inland Port Authority. Much of that cargo currently moves by truck, he noted, and only 10% by rail.
"Pushing cargo out of our terminals on trains," added Noel Hacegaba, the Port of Long Beach's deputy executive director, "maximizes on-dock rail utilization and frees up trucks to support the Southern California market."
Maritime Connections
The inland port concept is not limited to maritime connections. Louisville, Kentucky has emerged in recent years as the world's fourth busiest air-cargo hub, making it a "prime target for companies seeking a distribution option in the Midwest," according to Kevin Grove, a senior vice president at CBRE. Thirty-million people within 250 miles of downtown Louisville, he noted, providing the city with an "advantageous geographic location."
"Louisville reaches a higher population concentration within a 250-mile radius than other major markets," Grove added, including Southern California's Inland Empire, Dallas/Ft. Worth, Phoenix, Memphis and Kansas City.
In 2021, developers delivered 3.6 million square feet of new industrial space in Louisville, most of that located in large facilities. Third-party logistics providers occupy 43% of the warehousing space in the city, attracted, according to a CBRE report, by its "central location and many logistics advantages, including affordable rents and proximity to manufacturing."
Extended Port Reach
South Carolina Ports pioneered the concept of the rail-driven inland port when it opened Inland Port Greer in 2013, followed by Inland Port Dillon in 2018. The Greer facility extends the Port of Charleston's reach 212 miles inland to the northwest, with direct service from the Norfolk Southern Railway. Dillon is located 150 miles north of Charleston and enjoys service from CSX Rail. The two inland ports reported a combined 16,202 rail moves in May 2022, up 19% from the year before.
"We pulled 760,000 trucks off the highway since Inland Port Greer opened," said Alan Shaw, vice president of intermodal operations at Norfolk Southern Corp.
SCPA is now expanding Inland Port Greer, building additional rail processing and storage tracks within the terminal, expanding the container yard, enlarging the existing chassis yard, and building new facilities for heavy lift maintenance and terminal operations. The expansion is a part of SCPA's program to "invest in port infrastructure to handle more cargo," said Jim Newsome, CEO of South Carolina Ports, and to "drive more port-related growth in the upstate region."
Warehousing capacity in Greer has increased nearly 30% in recent years, according to CBRE.
Barge Transfers
Developments in the St. Louis region exemplify how the combination of maritime, rail and distribution infrastructure enhances the effectiveness of inland ports. St. Louis claims the position as the most efficient inland port in the United States, thanks to the 16 barge-transfer facilities located on a 15-mile stretch of the Mississippi River, which can handle 150 barges a day, or 450,000 tons per mile.
"The St. Louis region's port system is almost two and a half times more efficient on its river usage than its closest competitor," said Mary Lamie, executive director of the St. Louis Regional Freightway.
The newest grain-handling terminal was recently added on the banks of the Mississippi River in Cahokia, Illinois, expanding capacity with the ability to handle 1,000 more truckloads of grain daily. Regional infrastructure was also supported by the recently completed $4.1 million expansion of the Cargill Elevator Road.
"The added capacity and enhanced access," said Lamie, "will come in handy" given the growth in U.S. corn and soybean exports.
The St. Louis region's industrial real estate market continues to expand to meet regional demand for warehousing and distribution spaces. A recent Freightway report revealed that southwestern Illinois and eastern Missouri have 7.81 million square feet of modern bulk buildings under constructions, all of it speculative. That's 54% higher than the recent five-year average and 90% higher than in 2021.
"This is higher than the speculative activity in the region in 2019, 2020 and 2021, combined," the report noted, "a clear indication that developers believe the St. Louis market is a solid place for industrial growth and investment. As construction surges to meet the growing demand for warehouse spaces, industrial sites with valuable rail access potential have entered the market."
The distribution space under construction, noted Lamie, will add over 10% to the current level of bulk capacity. "Continuing investment in infrastructure and industrial space," she said, "will support freight movement well into the future."