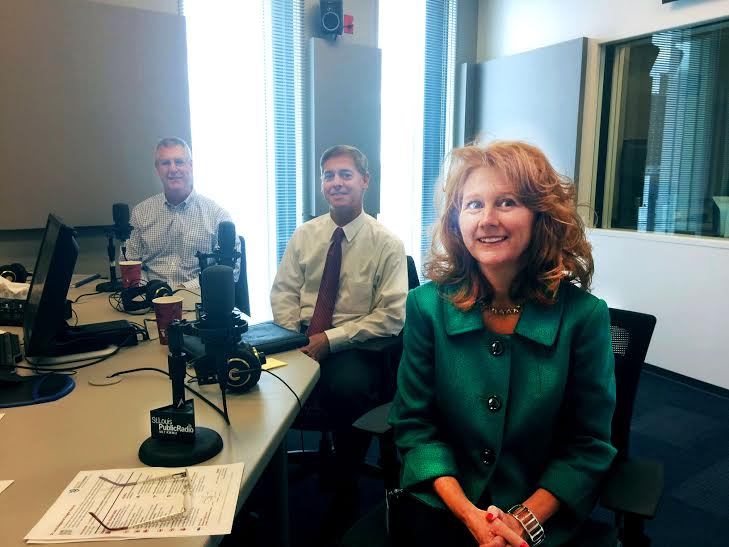 On December 2, 2015, Mary Lamie and Dennis Wilmsmeyer, Executive Directors of the St. Louis Regional Freightway and America's Central Port (ACP) respectively, and Chair of Leadership Council's Southwestern Illinois Transportation Enhancement, Mark Harms visited the St. Louis Public Radio studio to discuss the future of the region's freight industry. The three guests of host Don Marsh's "St. Louis On The Air" discussed the partnership between ACP and the Freightway, and the important part the St. Louis region will play in the country's projected 60% increase in freight activity over the next 25 years.
Wilmsmeyer discussed the significance of ACP's South Harbor opening, and the effect it will have on the St. Louis region's overall efficiency as a freight hub. The guests of Marsh's show talked about the Freightway's potential to market the St. Louis region as a core of American logistics, manufacturing and distribution to serve corporations of all sizes and origins.
"We have the ability to improve our warehousing and distribution, a strong component of our local economy," Harms said. "Freight touches everyone," Wilmsmeyer added. "More so today, with e-commerce and online sales. Every product that you receive, every product that you buy got there somehow. And, chances are, it got there by multiple modes of transportation. When you look at products coming from China, or overseas or anywhere, it is coming by ocean freight or air, touching the ground by rail or barge or truck transportation to get to its final destination."
To listen to the full interview, visit the original story at the St. Louis Public Radio website, here.