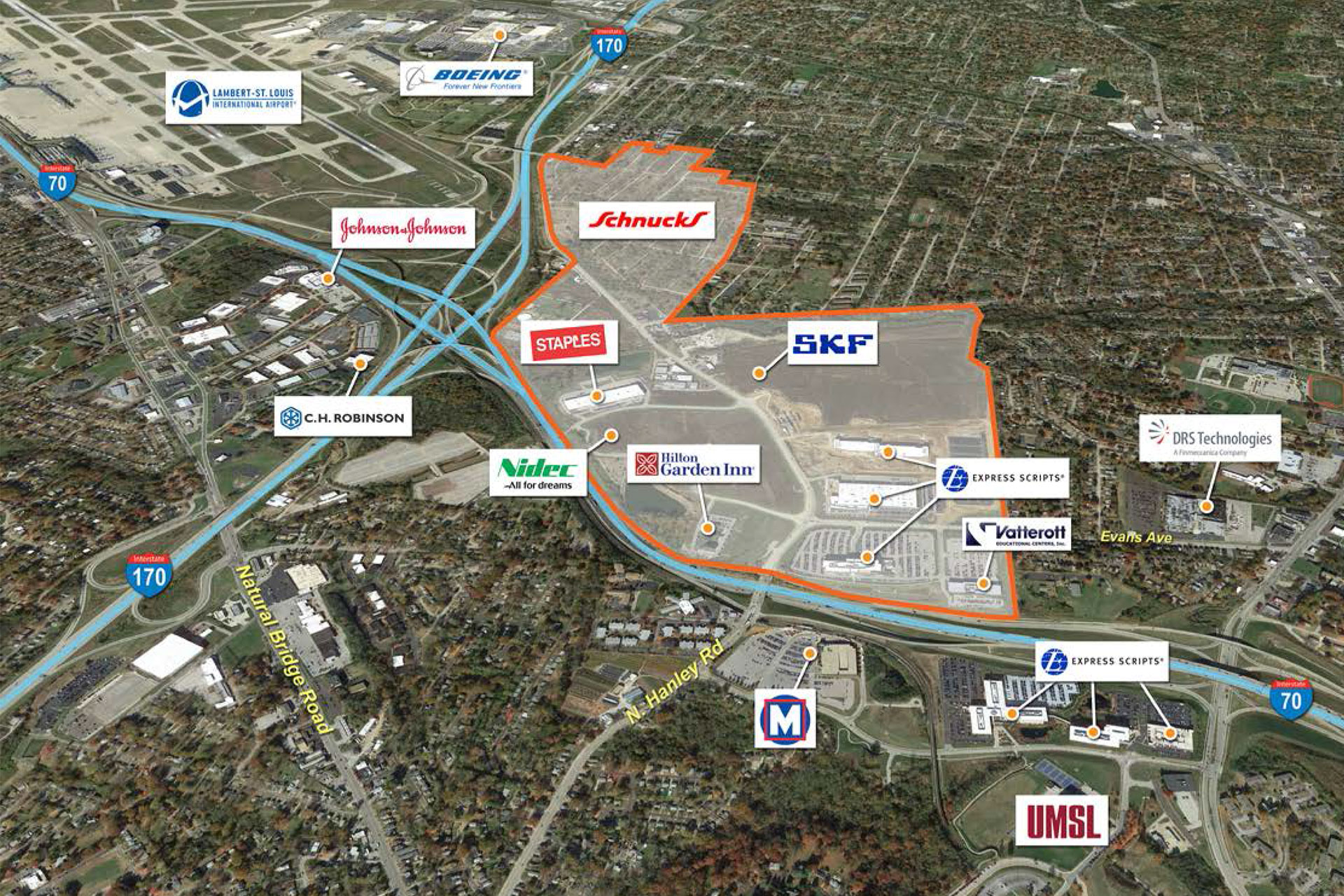 NorthPark is a 550-acre premier business park that hosts over five million square feet of dramatic buildings designed to complement the surrounding environment. The park boasts over one million square feet of development, with seven separate buildings constructed to date. Tenants have access to abundant utilities provided by key suppliers such as Ameren UE, AT&T, Laclede Gas, Missouri American Water, MSD, and numerous fiber and data providers.
NorthPark features excellent access to Interstates 70 and 170 serving the St. Louis Metropolitan area. The park is adjacent to University of Missouri-St. Louis and St. Louis Lambert International Airport. It is a Foreign Trade Zone (FTZ), an Enhanced Enterprise Zone, and the only urban redevelopment project in the country located between the intersection of two major highways, an international airport and a renowned university.
NorthPark practices high standards of first class, quality development maintained via protective covenants. It is served by MetroLink's North Hanley station, with plans to build a second station at Springdale and Interstate 70 as demand dictates. Hotels, restaurants, banks, hospitals, regional malls, specialty shops, sports and recreational activities, entertainment venues, daycare services, and other amenities are only minutes away from the property. The park also features close proximity to an abundant skilled workforce. Leadership in Energy and Environmental Design (LEED) design elements are planned throughout the development and in the buildings. The park contains three LEED certified projects.
Site
NorthPark
Zoning
Commercial/Industrial
Available Buildings
Office, Warehouse, Retail
Available Area Site (Acres)
172 Acres
Address
5400 N. Hanley Road
St. Louis, MO 63134
City/County
Berkeley/St. Louis Co.
Asking Price PSF
Negotiable
Incentives & Benefits
FTZ, Super TIF District, Chapter 99 & 100, ACT Work Ready Community
Opportunity Zone
Yes
Onsite Utilities
Electric, Natural gas, Water, Sewer, Telecom
Highway Access
I-70, I-170, I-270, I-64
Rail Access
No
Barge Access
No
Broker Name
Pat Reilly, SIOR
Broker Company
JLL
Phone
314-338-2085
Email
patrick.reilly@

null

am.jll.com
Broker Name
Gary Parker, SIOR
Broker Company
Intelica
Phone
314-270-5994
Email
gparker@

null

intcre.com
Major Tenants (Move-In Date)
- Amazon
- Express Scripts (2010)
- Forte Frozen (2020)
- MTI Distributing
- PepsiCo (2019)
- Schnucks (2016)
- SKF (2015)