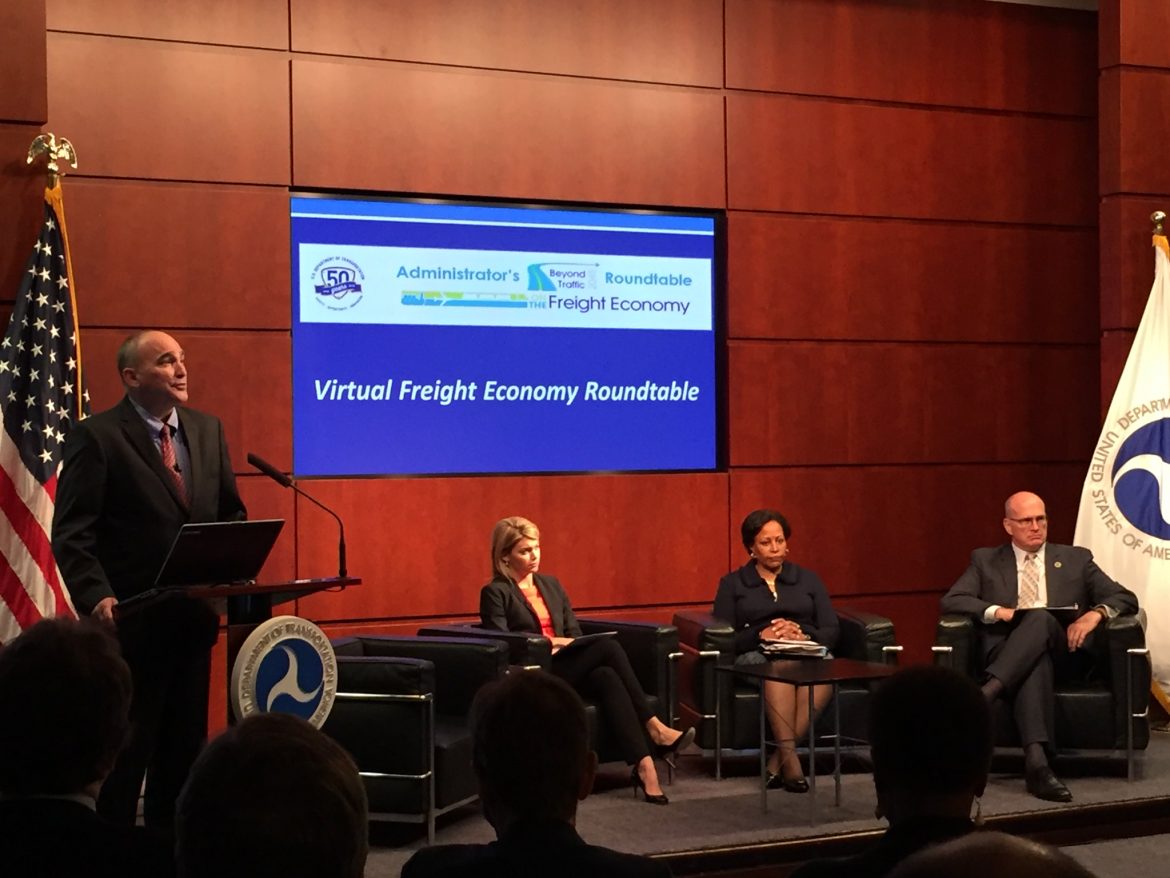 The St. Louis region was featured prominently during a U.S. Department of Transportation (USDOT) Virtual Freight Economy Roundtable, emphasizing the important role the bi-state area has in the nation's freight network. Led by Administrator Gregory Nadeau of the Federal Highway Administration, the virtual roundtable on October 13 was the capstone event of a national dialogue on freight, transportation and infrastructure, which included Freight Economy Roundtables held in 24 cities around the country, including one hosted by the St. Louis Regional Freightway in St. Louis, Missouri, in September.
In his opening remarks, Nadeau addressed the state of the country's transportation infrastructure and highlighted the replacement of the Merchants Bridge, a critical rail connection between Missouri and Illinois across the Mississippi River, as a project that could make a difference to both the regional and national freight networks.
"We set out to make the case that America's future is tied to the condition of its infrastructure," Nadeau said. "In each community, we heard about projects that made a difference … and too many others that would make a difference if only there were money to build them, like the Merchants Bridge in St. Louis."
Nadeau also noted that the USDOT's Beyond Traffic 2045: Trends and Choices study indicated that congestion on highways in Midwestern states will increase from two to nine percent over the next 30 years, coinciding with a national population growth of 70 million and a 45 percent increase in overall freight volume. With a majority of the nation's food supply coming from and traveling through these rural areas, the infrastructure supporting freight traffic in the middle of the United States is crucial. 
"We have some very strategic investments that have to occur in rural states where the goods we are going to need, from agricultural to manufacturing, are going to come from," Nadeau said. "We need a transportation system that is reliable and mobile and moving those goods to market."
The roundtable also featured videotaped interviews with several St. Louis freight and business leaders, whose expertise and insights helped highlight serious issues impacting freight movement and industry growth. Rich Diffley, Director of Operations for Lange-Stegmann, talked about how a lack of grade separations are creating first-mile and last-mile bottlenecks in the St. Louis region that significantly delay freight movement by rail. Looking toward the future, Michael Holmes, Executive Director of the St. Louis Agency of Training and Employment, stressed the importance of ongoing workforce development, as the current shortage of drivers and other skilled workers would only become more critical as the industry sector continued to grow. One strategy recommended for consideration is an initiative that would allow veterans with transferrable job skills and experience from military service to receive credit toward job certification.  
The virtual freight economy roundtable can be seen in its entirety here. For more information on the St. Louis Region Administrators Roundtable on Freight Economy hosted by the St. Louis Regional Freightway this September, read Administrator Gregory Nadeau's blog and his editorial in the St. Louis Post-Dispatch.