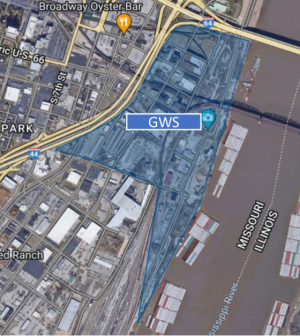 This article originally ran in Construction Forum on August 10, 2022. 
---
A $1.2B development project is under consideration for 80 acres located south of the Gateway Arch near the Poplar Street Bridge. A resolution is scheduled to go before the St. Louis Port Authority Commission at its Thursday (Aug. 11) meeting.
The agenda item is titled in part, "Resolution stating the intent of the Port Authority to cooperate with Good Developments Group to develop a mixed-use development on certain property near the Mississippi River…"
The executive summary states, "Good Developments Group (the "Developer") owns or controls approximately 50 acres out of a potential development site of approximately 80 acres generally located south of Interstate 64 (Poplar Street Bridge) and west of the Mississippi River (the "Redevelopment Area"). The Developer proposes to develop or cause the development of residential, retail, entertainment, office and industrial uses in the Redevelopment Area, as well as substantial public infrastructure and public space improvements (collectively, the "Gateway South Project").
Read More