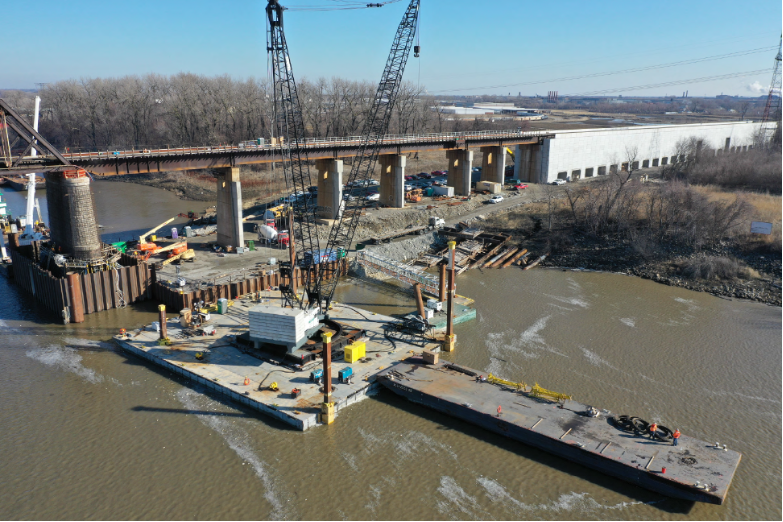 Check out our latest Freightway Regional News & Updates to read about the progress being made on a couple of key projects underway in the St. Louis region to enhance our region's freight network, and learn about another collaboration aimed at getting workers to the region's thriving industrial parks.
Merchants Bridge
Terminal Rail Road Association St. Louis (TRRA) continues to make strides on its $222M million project to replace Merchants Bridge, a vital rail artery across the Mississippi River and one of the nation's primary east-west rail corridors serving the nation's third largest rail hub. Recent updates from TRRA indicate tremendous progress on the project, including:
Work advancing on all four river piers, employing carpenters, ironworkers, operators and laborers. They are at various stages, but the east and west bank piers have had micropiles installed and footings poured and are advancing vertically by dowelling into the existing stone and pouring the reinforced concrete casing.
The two in river piers are advancing but are lower vertically. The 1st footing pour at pier 2 (closer to Illinois riverbank) is placed. Pier 3 work includes completing the temporary cofferdam, which keeps water out of the work space, and then installing micropile to anchor for barge collisions and resist earthquakes.
The first truss is being assembled on the Missouri river bank and is nearing 50% completion. The first span float out/in is scheduled for September 2021.
When completed in early 2024, the new double track bridge will help move freight faster, cost-effectively and more reliably, providing an alternative to more congested rail regions like Chicago
I-270 North Project
Continuing work on MoDOT's I-270 North Project will require a mid-April closure of Interstate 270 in North St. Louis County. It is anticipated this closure location will be the region's largest traffic impact in calendar year 2021 as work advances to improve this critical logistics corridor in our region.
Location: I-270 Eastbound and Westbound will be closed near West Florissant
Duration: Starting at 9 p.m. on Friday, April 16, the interstate will be closed both eastbound and westbound to traffic. Crews will have the interstate back open each direction by Monday, April 19 at 5 a.m.
Weekend Detour: Traffic will be detoured utilizing the ramps around the bridge demolition activities. A basic map of the detour for interstate travel is provided below.
Delivering Workers to the Region's Thriving Industrial Parks
A recent news release issued by the St. Louis Regional Freightway has generated widespread coverage, calling attention to how more public transit options and public-private sector collaboration are creating better access to the labor pool for industrial park employers in the region. These efforts come on the heels of record-setting growth in the St. Louis region's industrial sector in recent years, which has resulted in strong demand for labor and the need for enhanced transportation options to connect a larger pool of employees to the thousands of jobs that have been added. Collaboration between the tenants in some of the largest industrial parks, the St. Louis Regional Freightway, Metro Transit, Madison County Transit, and municipalities such as Madison County, Ill., and Hazelwood, Mo., has resulted in those needs being met. The commitment to provide service where needed most resulted in increased ridership even in the midst of the pandemic. You can access the release below to learn more.