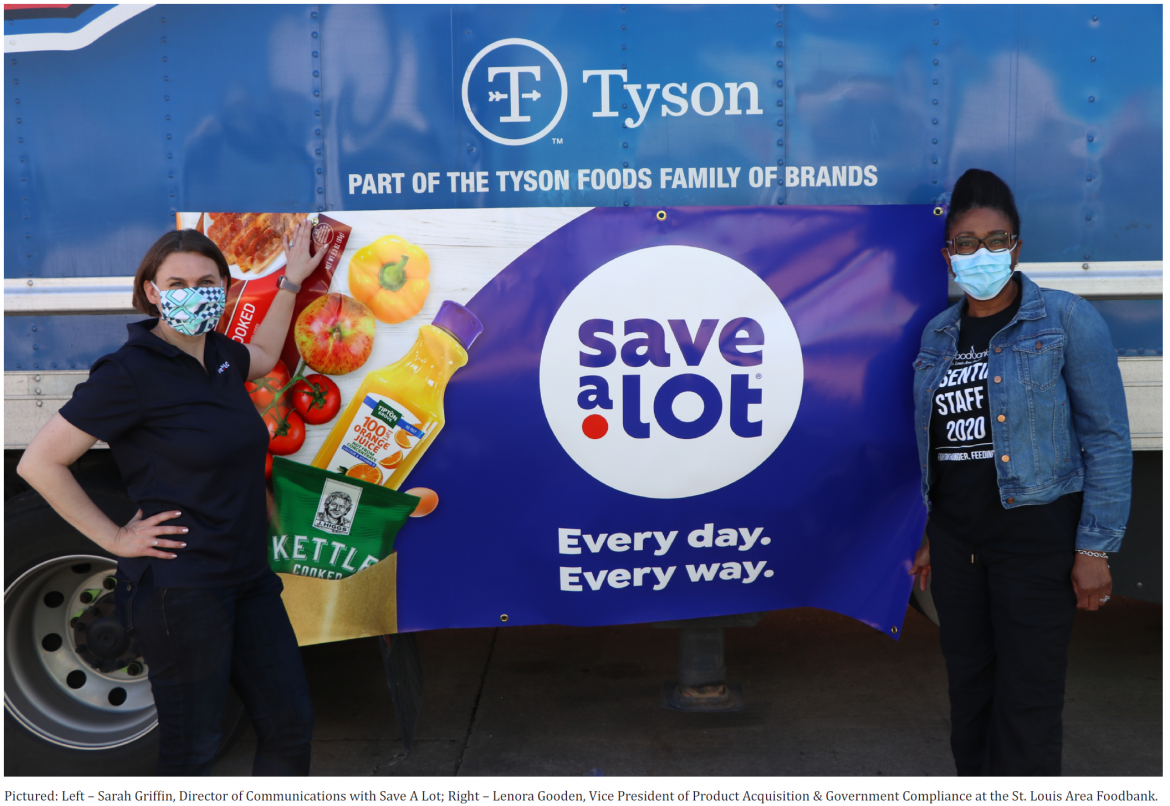 While states continue to open, supply chains that transport essential food and products to the nation's grocery stores still remain impacted by COVID-19. St. Louis-based Save A Lot continues to operate at an accelerated level to safely serve its customers during these unprecedented times.
Since its inception in 1977 as a single store in Cahokia, Ill., Save A Lot has grown into one of the largest discount grocery store chains in the U.S., encompassing more than 1,000 corporate and licensed stores in 33 states. Its distribution network comprises 14 wholesale distribution centers, including a location in Edwardsville, Ill., that continues to step up with all the others to help ensure store shelves remain stocked.
When the COVID-19 pandemic began, Save A Lot stores, its retail partners, distribution system and suppliers took an all-hands-on-deck approach to quickly replenish stock and has continued to provide the high-quality food and outstanding value its customers expect. Sarah Griffin, director of communications for Save A Lot, says that despite the uncertainty that came with these challenging times, Save A Lot was and remains quick to respond almost immediately as cases started popping up here in the U.S.
"We're really fortunate that we have a strong network of distribution centers that serve as our hubs for business and give us real flexibility to shift product where it's needed most so that we were able to quickly replenish supplies where stores might have had higher demand and limited inventory during the COVID-19 pandemic," said Griffin. "Early in the pandemic, we moved to 24/7 operations across our whole distribution network to help us better meet that increased customer demand."
Griffin adds that, along with the rest of the grocery and retail industry, there have been some intermittent shortages of products, and due to an increased demand in stores, temporary limits were placed on some essential items, with the particular items varying by store. Save A Lot has been fortunate to be able to continue to reduce that list as inventory levels have stabilized.
"Our strong focus on private label brands means we have a strong network of suppliers who have been working tirelessly all over the country to increase supply and meet an incredible level of customer demand," Griffin said. "Throughout the pandemic, we've partnered closely with them to ensure that we can re-supply our DCs and our stores quickly."
Each store in the Save A Lot network receives product deliveries three times each week, and to help sustain that volume, Save A Lot launched a recruiting campaign at the end of March to attract displaced workers from other industries into its network. To date, the company has hired nearly 1,000 workers across its 400 corporate stores and distribution centers. Locally, University of Missouri-St. Louis (UMSL) programs are a go-to recruiting resource for the company as it is always on the lookout for new talent to bring into the supply chain team.
In support of the company's commitment to high standards in everyday business, the safety of both customers and team members remains a top priority during the ongoing pandemic. In April, Save A Lot rolled out widespread protective measures in all of its stores – both corporate owned and retail locations – including offering priority shopping hours for seniors and customers with disabilities and their caregivers; installing plexiglass in the checkout area and placing six foot markings on the floor to practice safe social distancing; providing Personal Protective Equipment (PPE) like masks, latex gloves and hand sanitizer to all team members; and ensuring they have access to resources to stay informed on various health regulations.
Today, the company continues to implement daily health checks requiring all employees to show up to work before the start of their shift to sign off on a health form verifying they are free of symptoms like cough, fever, and shortness of breath. Save A Lot continues the regular cleanings and disinfecting of high-touch surfaces in all stores, including bagging stations, checkout lanes, shopping carts and baskets.
"We've been incredibly grateful and proud of how our stores, our licensed retail partners, our distribution centers and our suppliers have really stepped up throughout the situation to help us continue to serve customers every single day," said Griffin. "We're certainly very proud to be part of the St. Louis community, and we're very committed to protecting the health and safety of our team members here and in all of our stores across the country."
The pandemic has also created opportunities to give back: on June 12, Save-A-Lot and Tyson Foods partnered together to donate 40,000 pounds of frozen chicken to the St. Louis Area Foodbank.
"It's so needed and appreciated by the people we serve," said Ryan Farmer, director of marketing for St Louis Area Foodbank. The extremely generous donation will be distributed to 26 counties in the St. Louis region.
A longstanding partner of the St. Louis Area Foodbank, Save A Lot stores and its local distribution center in Edwardsville, Ill., have donated nearly 400,000 pounds of food this year to-date in support of the organization's efforts to create a stronger, healthier bi-state region where no one goes to bed hungry.
"Now more than ever, the issue of food insecurity is hitting home for communities across the country," said Damir Kordic, Vice President of Operations for Save A Lot. "As a neighborhood grocery store, Save A Lot is committed to providing much-needed support and services to those communities who need it most, including right here in our own backyard of St. Louis. We're humbled to join Tyson Foods in making this donation to the St. Louis Area Foodbank."