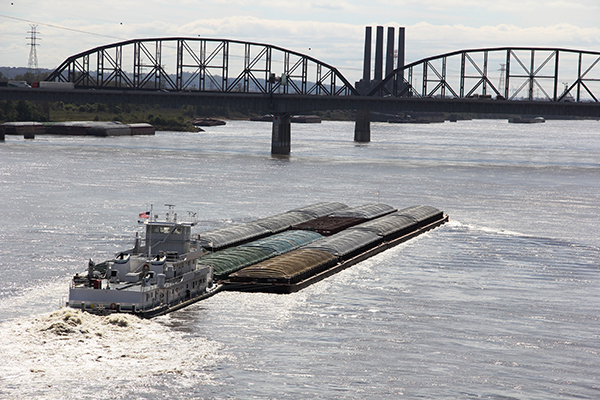 In 2015, one-third of all freight traffic along the section of the Mississippi River from Minneapolis, Minn., to the Ohio River near Cairo, Ill., was captured by the St. Louis region's ports and river terminals, according to the U.S. Army Corps of Engineers (USACE). The 70-mile St. Louis regional port system represents only 8 percent of this 855-mile section of the river, yet carried one-third of the freight, reinforcing the St. Louis region's critical role in the nation's freight network.

What does this mean? The St. Louis region's ports and river terminals have created a competitive shipper and carrier market. Our ability to capture one-third of the market share of 109 million total tons of all freight traffic is attributed to:
Excess capacity at river terminals and high concentrations of barges, resulting in the St. Louis region having inexpensive barge freight rates for the handling of fertilizer, steel, manufactured goods, coal, petroleum products and agricultural commodities.
Intermodal connectivity – The region's freight rail network includes six of the nation's seven Class I railroad carriers, and many of the region's river terminals and public ports have the critical unit train capacity. Freight rail also has easy access to four interstate highways – I-44, I-55, I-64 and I-70 – all of which provide national access.
Geographic advantage – Centered in America's agricultural heartland, the region provides the northernmost ice-free and lock-free access on the Mississippi River to and from the Gulf of Mexico.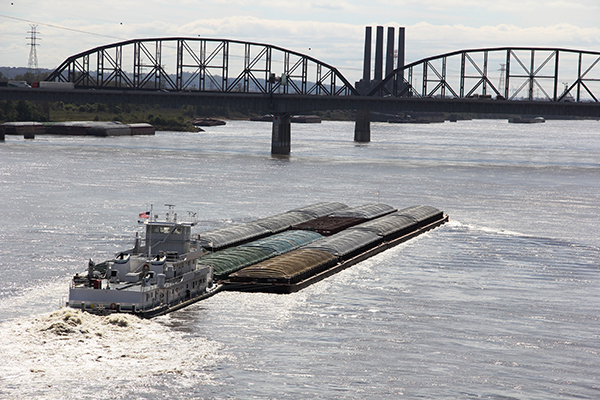 Available capacity of the existing ports and river terminals and a high concentration of barges, combined with proposed barge facilities coming online over the next couple of years, strategically position the St. Louis region to capture an even greater portion of the freight traffic moving along the Mississippi River. U.S. Department of Agriculture reports suggest that, without improvements in U.S. infrastructure from the farm to ports, global agricultural market shares will decline dramatically. With one-third of barge freight traffic market share and opportunities for additional growth, the importance of continued efficient and reliable rail and truck interconnectivity is critical for maintaining global competitiveness. Investment in our infrastructure, including improving at-grade rail crossings and increasing efficiency of freight rail interconnectivity with the region's Class I railroads, is key to supporting the barge industry.

See the related article in this issue for an overview of the region's highest priority transportation projects that will help ensure continued growth, or for more information on the entire Freightway project list click here.