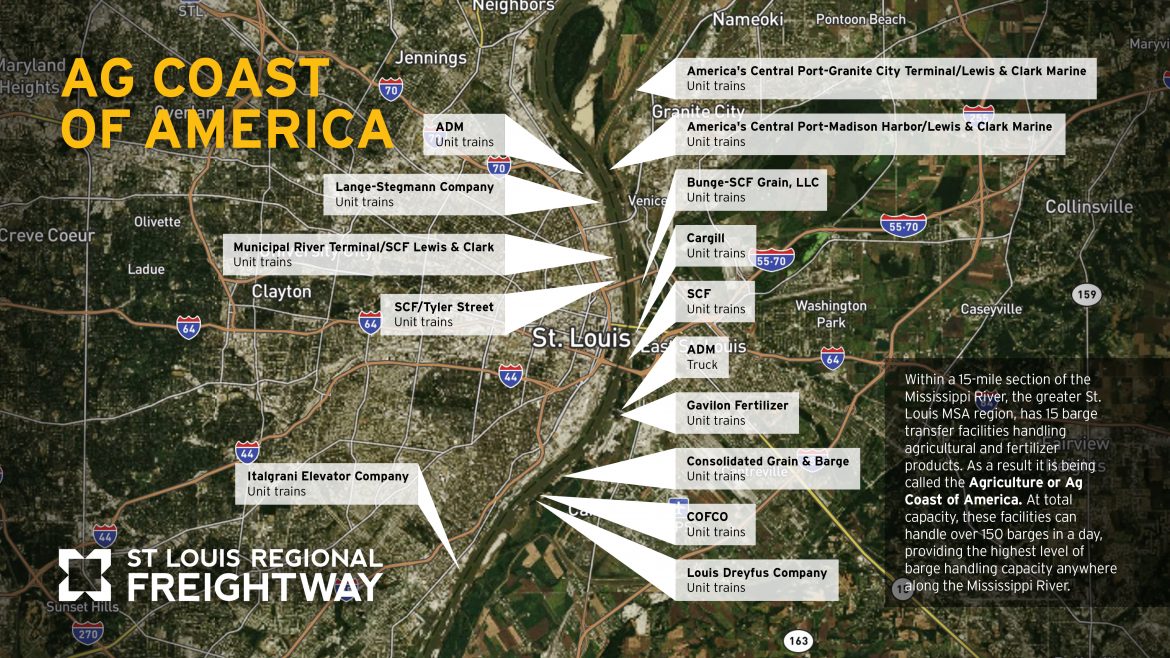 These articles were originally published in The Waterways Journal in the October 16, 2017 issue.
---
America's Central Port Attracts Tenants with Expansion
"New rail construction continues to be the focal point of America's Central Port District, Madison, Ill., as it looks to attract new manufacturers and distributors to the St. Louis area. In 2016, port officials completed over 23,000 feet of new rail track designed to handle the heaviest of rail loads, bringing the total rail infrastructure at the port to more than 40 miles of track…"
---
Kaskaskia is Growing Part of Greater St. Louis Port Region
By David Murray
"A recent Corps of Engineers report comparing inland ports listed the St. Louis greater regional port district over a 70-mile radius as third in the country. If the Kaskaskia River is included, however, it is the second-largest. On its own, the Kaskaskia Regional Port District says it is the 73rd largest port and the 8th largest inland port in the country…"
---
Nichols Manages Operations for St. Louis Port Authority
By H. Nelson Spence
"It's often said there's no better way to become acquainted with someone than to spend an afternoon on the golf course. That certainly holds true in the case of Nick Nichols, who is the operations manager of the City of St. Louis Port Authority. To play golf with him is to know him…"
---
St. Louis Mayor Addresses River, Infrastructure Issues
By David Murray
"Lyda Krewson became St. Louis' first female mayor in April 2017 after serving as alderwoman of St. Louis' 28th ward since 1997.
After graduating with an education degree from Truman State University, Krewson moved to St. Louis where she earned her accounting degree from the University of Missouri-St. Louis. Krewson is a CPA, formerly an auditor for Deloitte, and chief financial officer of PGAV, an international design and planning firm…"
---
America's Ag Coast Didn't Happen By Accident
"An article in this week's issue highlights how the St. Louis region has become a grain and fertilizer logistics "super-center," known as "America's Ag Coast," boasting an array of assets that make it unrivaled for moving grain from America's heartland to anywhere in the world…"
---
Lange-Stegmann Links River, Rail and Road
By Celeste Huttes
"With roots that run deep in the fertilizer industry, St. Louis-based Lange-Stegmann began its journey as Lange Brothers Fertilizer back in 1926. Brothers Henry and Dewey Lange sold processed meat scraps, blood meal and steamed bone meal as fertilizer to customers throughout the Midwest. Having since moved into the role of middleman, this small-but-nimble family business thrives more than 90 years later…"