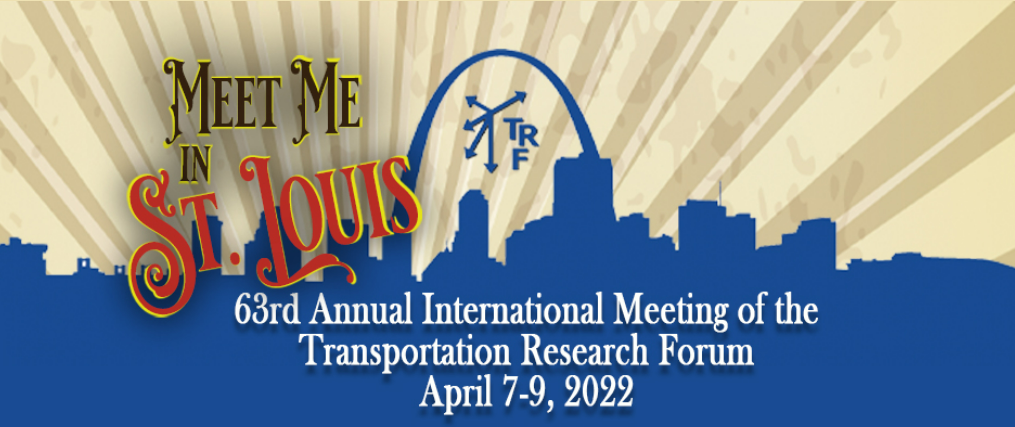 Join transportation practitioners, researchers, academics and students for the 63rd International Meeting of the Transportation Research Forum in St. Louis, MO – the AG Coast of America – from April 7 to 9, 2022. Click here to learn more about the conference and to register!
The conference is an in-person event held at the JC Penney Conference Center on the University of Missouri – St. Louis campus.
Attendees will learn the best in current transportation research, applied practices and innovation. They will also get the chance to explore St. Louis' rich transportation history through panels, tours and a special Mississippi riverboat dinner cruise that will showcase the AG Coast of America and the growing role of St. Louis as one of the nation's most important transportation corridors.
The discount code stl2022 is available for anyone within 250 miles of STL. The local price for both days of the conference is $125, not including the tours and riverboat cruise.
About the Conference
TRF is pleased to announce that the major sponsor this year is the United States Department of Agriculture (USDA). USDA elected to be the major sponsor due to St. Louis's influence and importance on agricultural transportation.
USDA will host a series of targeted agricultural breakout sessions during the conference featuring USDA presenters as well as Washington DC based USDA Transportation and Marketing officials.
The keynote speaker will be Nick Powers, Executive Vice President from UNCOMN, a greater St Louis based industry-leading business-to-business management and technology consulting services firm that "thrives on finding elegant solutions to wickedly complex organizational, logistic, process, data, and technical problems." Mr. Powers will be discussing one of UNCOMN's current problem assignments on technology solutions addressing Port of Los Angeles congestion issues.
Tours will be available on Thursday and Saturday for attendees to see first-hand the operations of St. Louis transportation systems and facilities, including Anheuser-Busch InBev, America's Central Port and Melvin Price Locks & Dam.