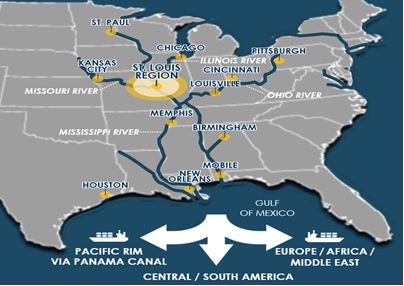 This article originally ran in the Illinois Business Journal on May 5, 2021. 
---
The agriculture and manufacturing industries may not have much in common, but for those operating in either sector in the bi-state St. Louis region, there is an advantage they both enjoy – global connectivity. In addition to its central location in the United States, which makes two-day shipping to most of the country possible, the region offers easy access to multiple rail lines with service to coastal ports of export, along with an enviable position at the heart of America's marine highway system.
On the manufacturing front, prospects for success improve when a global company operates in a location that effectively accommodates its logistical needs, and the key role location plays has become even more evident during the COVID-19 pandemic. Securing access to talent is important — and the St. Louis region delivers on that front — but access to customers is critical and requires multimodal connectivity and exceptional freight infrastructure connecting to global markets.
Read More