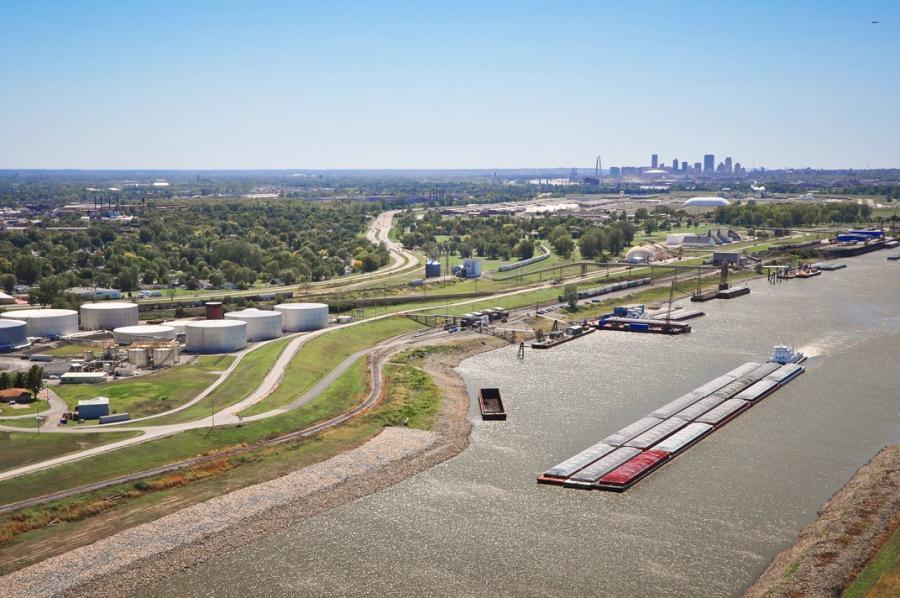 This article originally ran on NEXTSTL.com on March 28, 2022. 
---
Looking down at the Mississippi River from Bellerive Park in south St. Louis, the most prominent features aren't eagles and egrets but barges and tows. The Port of St. Louis may lack the natural beauty of other parts of the Mississippi, but it's a busy place. Millions of tons of bulk products move through every year, yet the port remains unknown to most of us.
A City Built on River Commerce
"I like to say our Port has been moving goods across three centuries," said Susan Taylor, the Port Director for the St. Louis Port Authority. Commodities have been moving in out and out of St. Louis for a long time, and people have been traveling the Mississippi to trade goods even longer.
The Mississippians who built the ancient city we call Cahokia traveled the big river to exchange goods such as maize for copper from the Great Lakes and seashells from the Gulf Coast. During the peak years of steamboat travel, thousands of boats landed at the St. Louis levee to unload their wares and pick up new ones. After the Civil War, railroads took over most long-haul transit and river shipping dramatically declined. By 1900, the amount of freight moved on the Mississippi at St. Louis (757,590 tons) was less than half of what it had been in 1870.
Read More