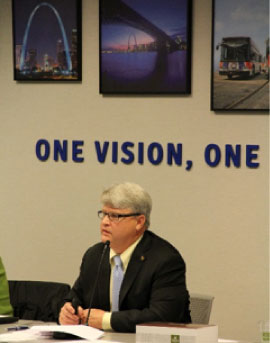 Deepening the Mississippi River Ship Channel from the Gulf of Mexico to New Orleans to Baton Rouge would allow larger ships to navigate through Louisiana on the lower Mississippi River. Sean Duffy, Executive Director of the Big River Coalition in New Orleans, LA, met with the St. Louis Regional Freightway and Port Working Group on April 5, 2017. This meeting was sponsored by American Commercial Barge Line (ACBL). The group discussed the project which focuses on dredging the channel from 45 feet to 50 feet.
"The Mississippi River is the second most productive river transportation system in the world, connecting to more than 12,500 miles of inland waterways," Duffy said. "This project has the potential to dramatically increase freight volume and expand operations throughout the entire system."
The lower Mississippi River is the largest port complex in the United States, with a deep-draft shipping channel that is more than 250 miles long and waterborne access into 31 states. Approximately 500 million tons of cargo are shipped through this system each year, with 80 percent of it destined for the Midwest, including the St. Louis region's three public ports – America's Central Port, St. Louis Municipal River Terminal and the Kaskaskia Regional Port District – and more than 130 private municipal river terminals and operators.
With nearly 70 percent of the nation's grain exports shipped through the Mississippi River Ship Channel, the proposed dredging would potentially immediately benefit all ports along the Mississippi River by allowing expanded shipment size and strengthening freight movement.
"Grain vessels with a proposed 50 foot draft could carry an additional 25,725 metric tons," Duffy said. "This is a substantial increase of approximately 91 percent, almost doubling their capacity."
Duffy said the cost of the proposed dredging project is estimated at just under $100 million, and would rely on a combination of federal funding and funding from other sources.
"Next steps include finalizing the engineering report by spring of 2018 and enlisting letters of support to Congress to ensure the nation maintains its competitive advantages to import grain, coal, chemicals, steel and commodities through the inland waterway system," Duffy said.
"This is a perfect example of why collaboration and coordination between regions is so important," said Mary Lamie, Executive Director of the St. Louis Regional Freightway. "Working together on infrastructure projects and other initiatives allows each region, and the nation as whole, to strengthen its competitiveness in the global economy."