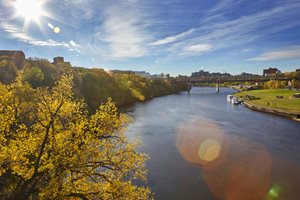 This article originally ran in Site Selection Magazine on Feb. 23, 2023. 
---
This isn't just an investment in our facilities, it's an investment in our hometown community."
Those were the words of Brendan Whitworth, CEO of Anheuser-Busch, when Anheuser-Busch last spring announced a $50 million investment in its signature St. Louis brewery as part of the company's 2021 commitment to invest $1 billion in its facilities across 26 states over two years.
"St. Louis is our hometown and plays a critical role in enabling our innovations and producing the highest-quality products for our consumers to enjoy," Whitworth said, noting the national investment plan's goal of "supporting our local communities by creating and sustaining jobs as our nation continues to navigate the economic recovery."
By all indications, St. Louis is recovering just fine.
Read More