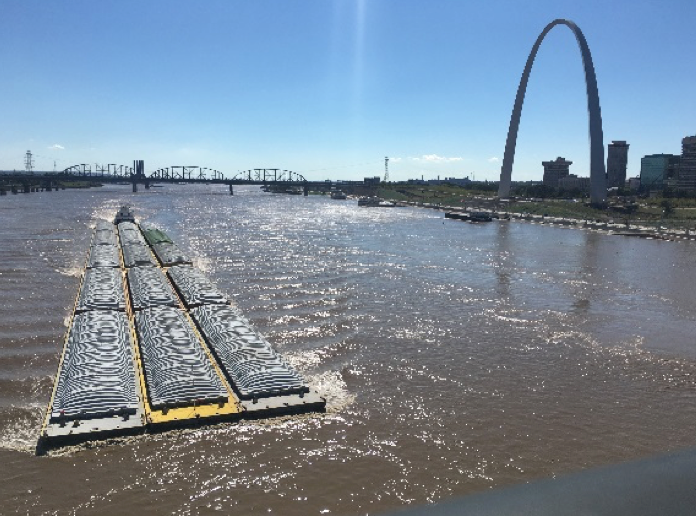 This story was originally published in the American Journal of Transportation on April 27, 2020.
---
AJOT
---
"As the COVID-19 pandemic continues to impact the movement of goods into, out of and throughout the United States, the consistent response across the freight network in the bi-state St. Louis region is helping to ensure it continues to deliver in these unprecedented times.
America's Central Port and Terminal Railroad Association of St. Louis (TRRA) were swift to implement measures such as social distancing, transitioning most office staff to work from home, having field supervisors alternate work days, increasing sanitation efforts for equipment, workspaces, and jobsites, and introducing new procedures, such as having employees report directly to job sites for safety briefings instead of congregating indoors. The port implemented two-person teams in the maintenance department to significantly reduce any potential exposure to the virus, while operators are taking temperature readings of employees entering or leaving their towboats at the beginning and end of their shifts. They also interview each employee about their wellbeing to quickly identify any symptoms.
Dennis Wilmsmeyer, Executive Director of America's Central Port (ACP), says that even with all these changes, the operators at the port continue to handle a tremendous volume of corn and soybeans, and the by-products, destined to ultimately feed the U.S. and the world.
"It has been business as usual with a tremendous amount of freight still moving to and through the St. Louis area. Everyone has heightened awareness of the need to reduce potential exposure to the virus and are limiting any close contact with other workers, but the food stock and freight continue to move," said Wilmsmeyer. "The operators here are just as essential to keeping the supply of food on the shelves as the truck driver who makes those daily deliveries…."
Read More